Dave Kimmel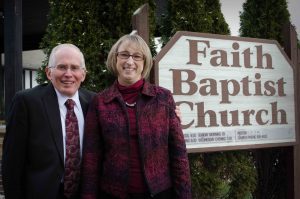 Dave Kimmel is the senior pastor of Faith Baptist Church. Dave was born and reared in St. Louis County.  His family did not attend church throughout his early years. When he was in middle school, a gospel preaching church was started at the entrance of his family's subdivision.   As a result of this young church's faithful door-to-door witnessing, his entire family was saved. He accepted Christ as his Savior as a sophomore in high school on January 10, 1971.  In August of that year, he surrendered to be a preacher of the gospel.
Dave received his Bachelors Degree in Bible with a minor in Biblical Language in 1977. While in college, he met June.  They were married during their senior year. Throughout over thirty years of ministry, Dave has taught in a Christian school, been a youth pastor, and a senior pastor.  He considers it a tremendous privilege to be in the Lord's service.
The Kimmels began their ministry in Wisconsin in January of 2009. Dave oversees the many ministries of Faith Baptist Church and Faith Christian Academy. His greatest joy is sharing God's Word through his preaching and seeing the Lord change lives. June ministers to the women through her Bible studies and women's ministry activities.
Dave and June have three children—two daughters and a son—and at this time, six grandchildren.  All of their children are actively serving the Lord, either in fulltime service or as faithful members in their churches.
For further information about Dave, please email him at pastorkimmel@fbcwi.com.
Josh Gabrielse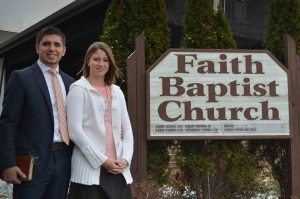 Josh Gabrielse, the Youth Pastor at Faith Baptist Church, was born and reared in southwest Michigan. When Josh was 10 years old, he trusted Christ as his personal Savior while attending a service at his grandmother's church. As a teenager he was active in many extracurricular activities including wrestling, tennis and pole vaulting before graduating in 2010.
In the fall of 2010, Josh enrolled at West Coast Baptist College located in Lancaster, California. There he majored in Bible with an emphasis in Pastoral Theology. After graduating in the spring of 2014, Josh married the former Laura Karmin of Augusta, Georgia. Laura also attended West Coast Baptist College.
The Gabrielse moved to Plymouth, Wisconsin in early July 2014 and joined the ministry of Faith Baptist Church. The two are now heavily involved in many ministries of the church. Laura is involved in the teen ministry and the church choir. Josh runs the teen ministry and assists Pastor Kimmel in other areas.
For more information about Josh, you can contact him at pastorjosh@fbcwi.com.